the tumblr mosaic viewer is probably most popular with japanese tumblr users, but it's easily the niftiest tumblr resource i have ever come across. i've been a fan of this app for a few years, and it's progressively gotten more and more useful to me. i've mentioned it on this blog more than once, but i figure bringing it up now and again can't really do any harm.
a lot of you are probably familiar with tumview - it's a pretty cool site where you can view all of the images posted on any blog in a relatively neat format. it's really useful if you're like me and like seeing all of the photos on your own blog (or your favorite blog) in one easily accessible place.
now, i'm going to tell you why TMV is easily 5 thousand times better.
first of all, the UI is pretty nice. it's easy to look at and even customizable to a certain extent - you can choose between two photo sizes, and the photos appear in collage format. you can also enable high-res image zoom.
but the best thing about TMV is easily the way you can choose to organize it.
there are four tabs above the mosaic viewer - dashboard, likes, around, and list. dashboard and likes are pretty self-explanatory (just log in directly through tumblr and it will show all the photos on your dash, or all the photos in your liked posts). "around" directs you to proto-jp's mosaic collage (it's NSFW), but you can enter in any username to pull up their posts (i just use the searchbar at the top for that though).
the list tab is BY FAR the most awesome thing about the TMV.
i love me some star treks, but i follow around 200 blogs and most of them aren't really posting much of it. because of this i rarely come across many things i want to reblog whilst scrolling through my dash. thankfully, the TMV has pretty much resolved this issue for me.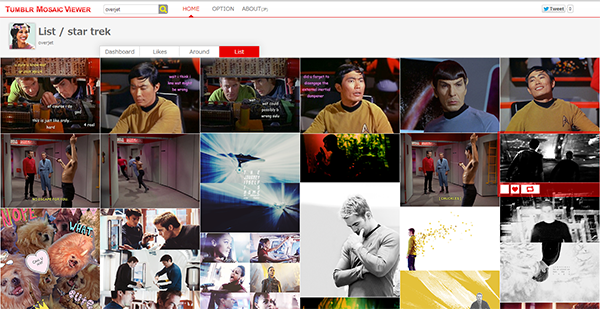 that up there is my star trek list!! the list feature is awesome, because all you have to do is add your favorite blogs to it and all of their photo posts will appear in the above format. what's better is that you can actually set the parameters for what appears - for example, in my star trek list, i made it so that only posts my favorite blogs tagged with "star trek" would show up. bam. collage of nothing but the best star trek-related things on my dash all in one place.
i also have more lists for other things, like mass effect and space. you can even make a tmv collage for your otp if you're so inclined.
now, it isn't JUST a collage. you can interact with it. you can one-click reblog instantly directly from the viewer, OR you can reblog in a new window to add a caption or tags (like i always do).
you can also 'like' posts directly from the viewer, and even search google by image.  
another feature that is worth mentioning is the 'similar user' section that shows up on the right hand side of every blog's mosaic page; i often click on blogs that are similar to my own, because it's a great way to find content and new blogs that post things you're interested in.
in conclusion: everyone should check out this clever app, because it's a pretty freaking awesome and intelligent resource.